Værker med personlighed
Works with personality
Since 2017, I have created unique works of art characterized by figures and faces drawn in one line.
One of my most distinguished tasks as an artist, is to tell your story in a work. For me, all stories are unique, and therefore the communication must be the same. I am so privileged that over 1,500 original works today live with people all over the world, and it warms my heart.
On this page you can see a small selection of the original works I have made for people, as well as a price overview of similar works. If you press 'send inquiry' you will be directed to a contact form where you can send an inquiry about a personal work. I look forward to hearing from you and how I can tell your story in a unique piece of art.
Prisoversigt
(priserne er vejledende og kan variere alt efter motiv og materialer)
A4: 2.000 kr. på papir eks ramme eller på lærred
A3: 3.000 kr. på papir i glasramme eller på lærred
50x70: 5.500 kr. på papir eller på lærred
70x100: 6.500 kr. på papir eller på lærred
100x150: 9.000 kr. på papir eller på lærred
150x200: 17.000 kr. på lærred
Vægmalerier
2.000 - 3.000 pr m2
God samlet pris gives, såfremt et større område ønskes dekoreres. Skriv gerne en besked, for et uforpligtende tilbud.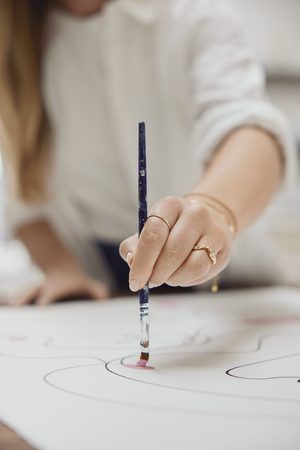 Colorful family portrait
Square family portraits measuring 110x110 cm. By painting the line in different colours, the customer can incorporate a beautiful play of colors without it becoming too dominant in the decor. Family portrayed as mother, father and their three children - colors selected in collaboration with the customer. Painted on 350 gram semi-structured drawing paper, glued and framed in a thin black aluminum strip.
Price for likeness: NOK 6,490 including special framing
Large family portrait
Large family portrait painted on a 150x200 cm linen canvas. All family members are represented with special characteristics, in an artistic expression and colors that reflect them, as well as their home.
Price for likeness: NOK 13,990 on linen canvas
Wedding present
Original work painted on handmade paper measuring 50x70 cm. Represents the wedding couple in a warm embrace and love for each other. Three gold hearts which symbolize their three children, ears of corn which played a big role in the decoration for their wedding, as well as a halo in gold which symbolizes the loss of one of their loved ones. Framed in solid oak with an air around the beautiful edge of the paper.
Price for likeness: NOK 3,890 including framing
Love couple with dog
Special order on A3 paper representing a couple with their dog. They have just moved into a house with a garden, which is why there are botanical elements around them. In addition, the number 3 has a great significance for the couple, which the three gold nuggets symbolize.
Price for likeness: NOK 1,790 ex.
In memory of his father
A young woman who lost her father at an early age wanted to immortalize their close bond in a unique work of art. Her dearest possession was a four-leaf clover necklace that her father left behind, which is why this necklace is implemented in the work in gold leaf. The picture is inspired by a childhood picture from a customer and the composition with care and presence is transferred to the story in the artwork. The work is made on handmade paper in 50x70 with structure and torn edges and specially framed in a solid oak frame with a distance of 2 cm from paper to frame.
Price for likeness: NOK 3,690 including special framing
Pearl wedding
Family portrait made for couples on the occasion of their 30 years of marriage - also called a pearl wedding. The color palette is inspired from an earlier work and the work is decorated with dots/pearls in mother-of-pearl paint. The artwork symbolizes marriage, love, family ties and embrace. The pearls symbolize 30 years of marriage. It is created on a 70x100 linen canvas and painted with acrylic.
Price for likeness: NOK 4,490 on linen canvas
Cardiologist
A personalized gift for a newly graduated heart surgeon. He stands with hearts in his hands, and I have therefore made a heart in gold leaf. The line is drawn in his favorite color on semi-structured drawing paper of 320 grams.
Price for likeness: NOK 2,490 ex frame
Et sæt
To mindre kvadratiske værker der måler 40 x 40 cm. Målene er valgt til et specifikt sted i kundens gang. Farverne er valgt i samarbejde med kunden og motivet er lavet ud fra kreativ frihed. Begge er indrammet i svæverammer i røget egetræ.
Pris for lign: 3.500,- stk.
Livet på gården
Speciallavet værk til familien på gården. I værket er både de menneskelige familiemedlemmer samt de pelsede repræsenteret. Værket er malet på et 150 x 200 cm hørlørred i horisontalt format. Hvor mange dyr kan du spotte?
Pris for lign: 17.000,- på lærred
Fri leg
Dette originale værk er lavet ud fra kreativ frihed. Kunden havde et ønske om blå baggrund og hvid streg, hvoraf motiv og resterende farver var op til mig. Farverne changerer i nuancerne, som er med til at give liv og leg. Værket måler 70 x 100 cm.
Pris for lign: 6.500,- på lærred
Indrammet
Stort familieportræt som måler 150 x 200 cm. Lavet på hørlærred og indrammet i massiv egetræsramme i svæv. Farver er valgt i samarbejde med kunden, så det passer til deres hjem.

Pris for lign: 20.000,- inkl. indramning i massiv egetræ
Vægmaleri
Stort vægmaleri, hvor jeg fik lov til at dekorere en hel gang med min streg. Stregen er i blå med en masse farverige detaljer. Små historiefortællinger er inkorporeret i vægmaleriet.
Pris for vægmaleri: cirka 2-3.000 pr m2